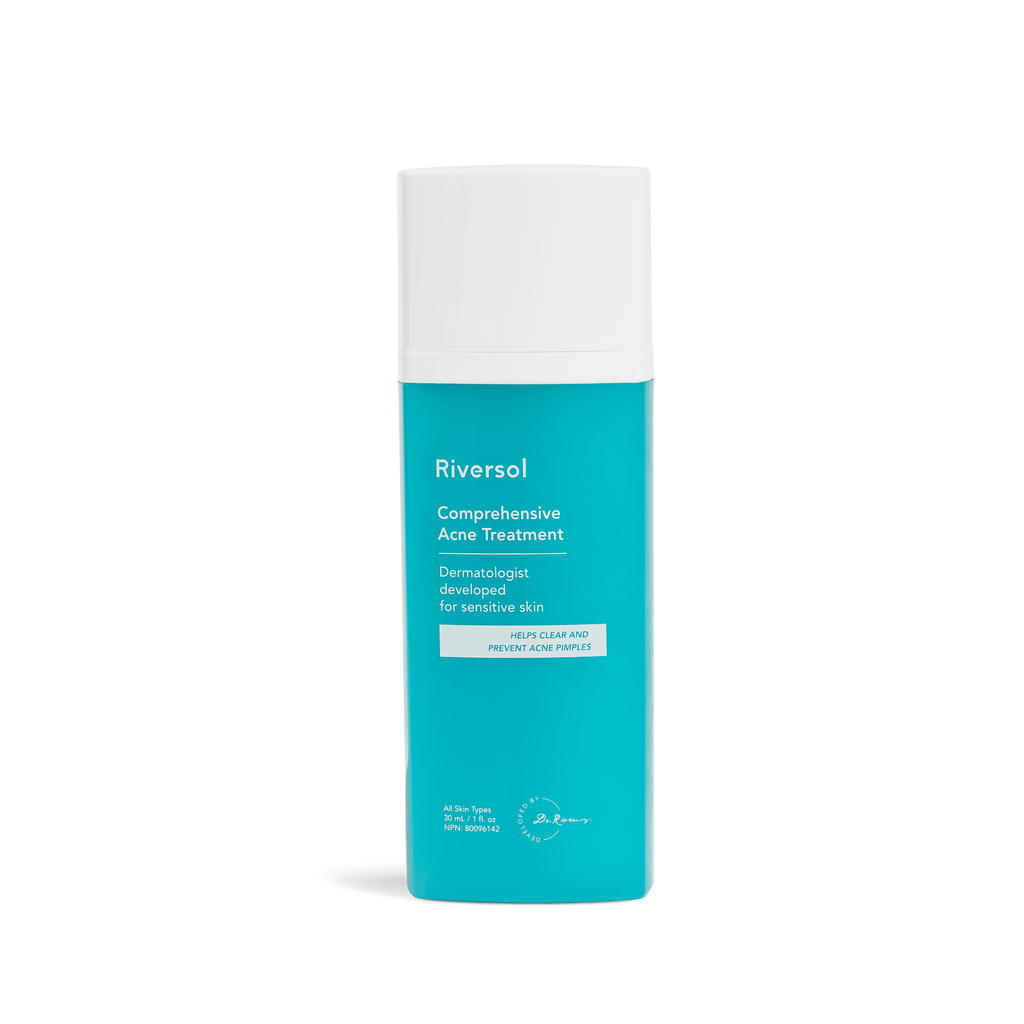 Comprehensive Acne Treatment
Comprehensive Acne Treatment
Regular price
$30.00
$27.00
This comprehensive acne treatment removes acne pimples and prevents new ones from occurring.
Regular price
$30.00
$27.00
Before and After
32-year-old female, acne lesions distributed on face
10 weeks of use
28-year-old female, acne lesions distributed on chin
8 weeks of use
25-year-old male, acne lesions distributed on face
6 weeks of use
23-year-old female, acne lesions distributed under the lip
2 weeks of use
About these results
Study participants tried the Comprehensive Acne Treatment for a total of 12 weeks. Each individual package lasts for 4 weeks on average with suggested use. The best results are evident after at least 8 weeks.
If, after 8 weeks of consistent use (2 x 30ml containers) you are not completely satisfied with your results, call us at 1.866.774.8377 for a complete refund, no questions asked.
Product Overview
Prevent Breakouts Before They Start
This unique delivery system is a world-wide first in acne treatments. When both chambers combine, our patented formula activates and makes the skin inhospitable to acne-causing bacteria.
The solution penetrates pores, clearing up existing pimples and preventing new pimples from forming.
Clears up existing acne pimples
Helps prevents breakouts
How It Works
Dr. Rivers' Comprehensive Acne Treatment was developed after countless patient inquiries for an effective, topical acne solution without the side-effects common with other treatments.
The two-chambered treatment includes:
A patented base formulation
An acidifying solution with .6% salicylic acid
When these two combine, they change the condition of the epidermal environment.
The resulting site is inhospitable to the acne-causing bacteria, p. acnes.
Ingredients
Full Ingredients
Acne Treatment
Medicinal Ingredient: Salicylic acid 0.6%
Non-Medicinal Ingredients: Aqua, Octyldodecanol, Caprylic/capric triglyceride, Cetearyl alcohol/Sodium lauryl sulfate/Sodium cetearyl sulfate, Polysorbate 60 PVM/MA, Decadiene Crosspolymer, Acrylates/C10-30 Akyl Acrylate Crosspolymer, Xantham Gum, Propylene glycol, Phenoxyethanol, Sodium hydroxide, Citric acid, Sodium nitrite, Glyceryl Stearate, PEG-100
Salicylic Acid
Gently exfoliates skin to reduce oil secretion, clear existing pimples and help reduce the look of acne scarring
How To Use
Directions
Clean the skin thoroughly
Thoroughly blend the product and cover the affected area 1-3 times daily.
For new users: Apply to a small area once daily for 3 days to test for sensitivity. If no discomfort occurs, dispense 2 pumps from each side.
Warnings
External use only.
Irritation and dryness are more likely if you use another topical acne product at the same time.
If irritation occurs, use only one product.
Avoid contact with eyes. If contact occurs, flush thoroughly with water.
Keep out of reach of children.
If swallowed, or if you develop hives, swelling of eyes and mouth, blistering, or difficulty breathing get medical help or contact a poison control center right away.
Use within 12 months of opening
Routine Order
Step 3: Comprehensive Acne Treatment
FAQ
Dr. Rivers answers the most frequently asked questions about the Comprehensive Acne Treatment.
1. Will it work on cystic acne?
Cystic acne can be very complex and generally requires oral treatment: antibiotics or isotretinoin. If the cystic acne is caused by hormonal factors, the birth control pill, or spironolactone are commonly used options.
2. Which products can I use with it?
We would suggest using the product after cleansing, and before a moisturizer. The selection of each would vary depending on skin type. A 4% Glycolic Peel and sunscreen would be excellent additions to any acne routine.
3. Why 0.6% salicylic acid?
This amount is required to acidify the base formulation and help clear some acne pimples in the process with mild exfoliation. 0.6% salicylic won't be overly drying on the skin, which is beneficial for acne patients. Salicylic acid is keratolytic. It helps open the acne pores, which can help to control breakouts. However, too much can irritate and peel the skin excessively.
4. Is it just for adult acne or good for teens as well?
This acne treatment is suitable for anyone with mild/moderate inflammatory acne.
5. Is this product pregnancy safe?
6. Will this work with "maskne" caused by wearing a face mask constantly?
Yes, it will help with acne mechanica, aka "maskne". This type of acne is generally caused by pore occlusion and irritation of the skin from physical pressure. Anyone experiencing "maskne" or acne mechanica should cleanse the skin well and use a moisturizer before masking (20 minutes before). These steps will help reduce the acne-inducing irritation that masks can cause.
7. Will this help control my acne rosacea?
The combined formulations in this product can cause short and mild vasodilation. Theoretically, this can exacerbate rosacea symptoms. We don't recommend the Riversol acne treatment for acne rosacea at this time.
8. Will this dry out my skin?
It shouldn't. The salicylic acid content at 0.6% is a safe concentration for skin prone to dryness. Additionally, the patented base formulation contains hydrating ingredients.
9. Where does it go in your routine? (e.g. If I'm already using multiple steps: a cleanser, serum, eye repair, corrector, etc.)
We would suggest: if you're using a serum, we would suggest to use the acne treatment right after the serum. If your primary skin concern is acne, skip the serum and use the treatment right after cleansing.
Shipping and Returns
Returns
We offer a full, money back guarantee on all of our products. If you are not satisfied with any part of your Riversol experience within 60 days of purchasing, please give us a call or send us an email. We will arrange a full refund of your purchase value. All refunds must be made on the same payment method used to make the original purchase.
After the refund is approved a credit will automatically be applied to your original method of payment. This can take a few days to process, depending on your method of payment.
Shipping
Your products usually ship within 24 hours after placing your order. If your order falls on a weekend, it will be shipped on the following Monday. In Canada we ship with Xpresspost and Priority, and your rates will be calculated at checkout. You get free shipping on orders over $69 CAD.
Reviews
Amazing product, it smooth out skin from acne w//o stripping the skin from oils. Very good for sensitive skin.
Great Product
My teenage Son has been using this Acne Treatment for 2 years now and it works amazing on his face.
He also uses the Gel Cleanser and loves it.
I absolutely love it and will never buy anything else