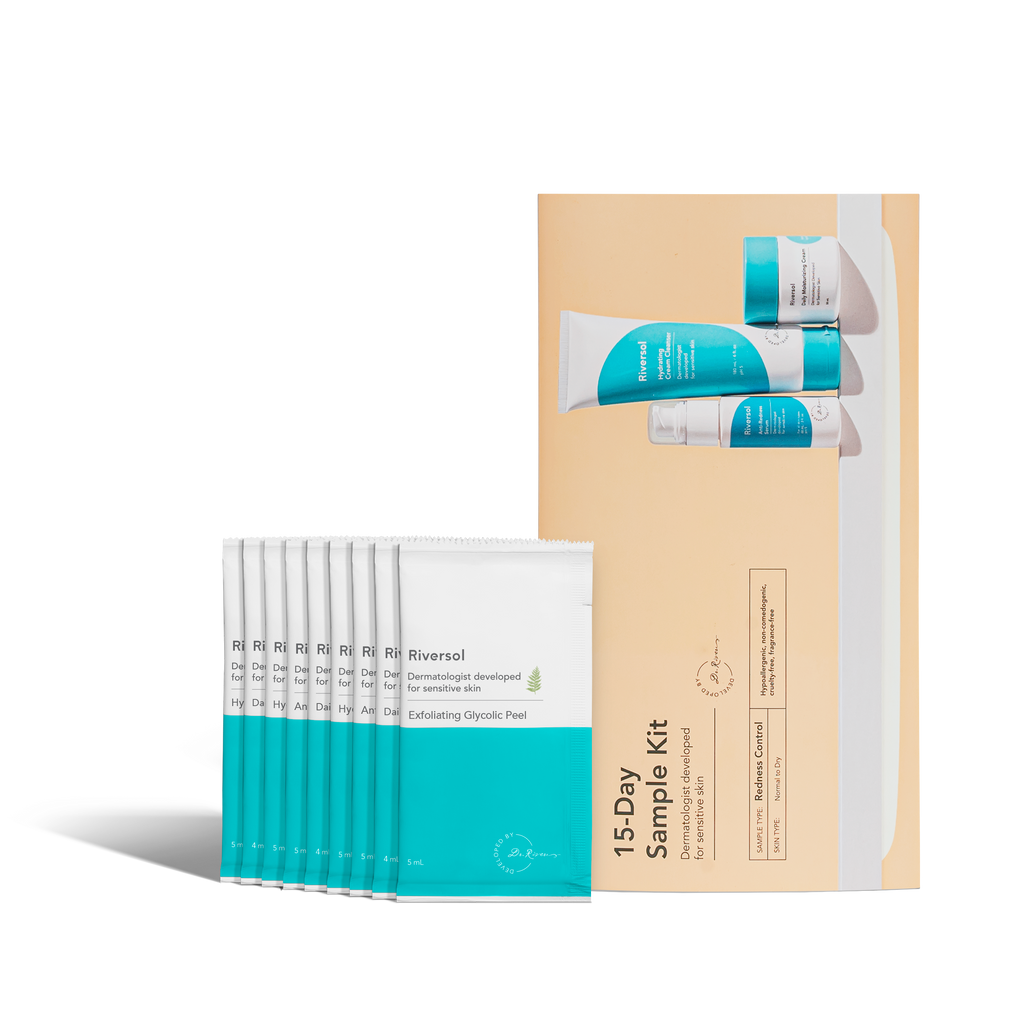 Riversol 15-Day Redness Control Sample Kit - Normal to Dry Skin
Riversol 15-Day Redness Control Sample Kit - Normal to Dry Skin
A dermatologist developed skin care kit formulated to be a complete, hypoallergenic regimen to reduce facial redness and flushing
Unfortunately, we're not able to ship samples outside of Canada and the US right now. Please shop our full collection here.
Free Sample! This is a one-time order, not a subscription

Shipping and Returns
Returns
We offer a full, money back guarantee on all of our products. If you are not satisfied with any part of your Riversol experience within 60 days of purchasing, please give us a call or send us an email. We will arrange a full refund of your purchase value. All refunds must be made on the same payment method used to make the original purchase.
After the refund is approved a credit will automatically be applied to your original method of payment. This can take a few days to process, depending on your method of payment.
Shipping
Your products usually ship within 24 hours after placing your order. If your order falls on a weekend, it will be shipped on the following Monday. In Canada we ship with Xpresspost and Priority, and your rates will be calculated at checkout. You get free shipping on orders over $69 CAD.
Reviews
Riversol Sample Kit
There seemed to be some improvement over the .75% Metronidazole Gel that I have used for several years. After the trial I bought one of the packs to continue using, we will see how it does and will have the option to reorder if I am satisfied with the results.
You should consider putting the trial packs in squeeze bottle rather than the current packaging, reason is the packets do not travel well. The product came out of the packaging in my luggage and I was unable to use it, although I had placed them in baggies they created a mess and were rendered useless.
I will continue to use it and then decide whether to continue or go back to the Metronidazole.
Awesome!!!
Thank you so much for the samples. I like your products. It felt smooth on my skin.
Redness cream
I have not really had a chance to fully do the protocal , due to the fact my son
has has colon cancer which takes up all my time, as I am his caregiver.
I have used the redness cream only , as the facial redness is the
issue that I need help with. It has done a wonderful job at reducing
the redness on my face on it's own. Do not have time to worry
about my facial redness to much , but for the amount of time that
I have used it , very pleased. Very good product for me personally.
Every one is different for sure , but I am pleased with my results.
Rick