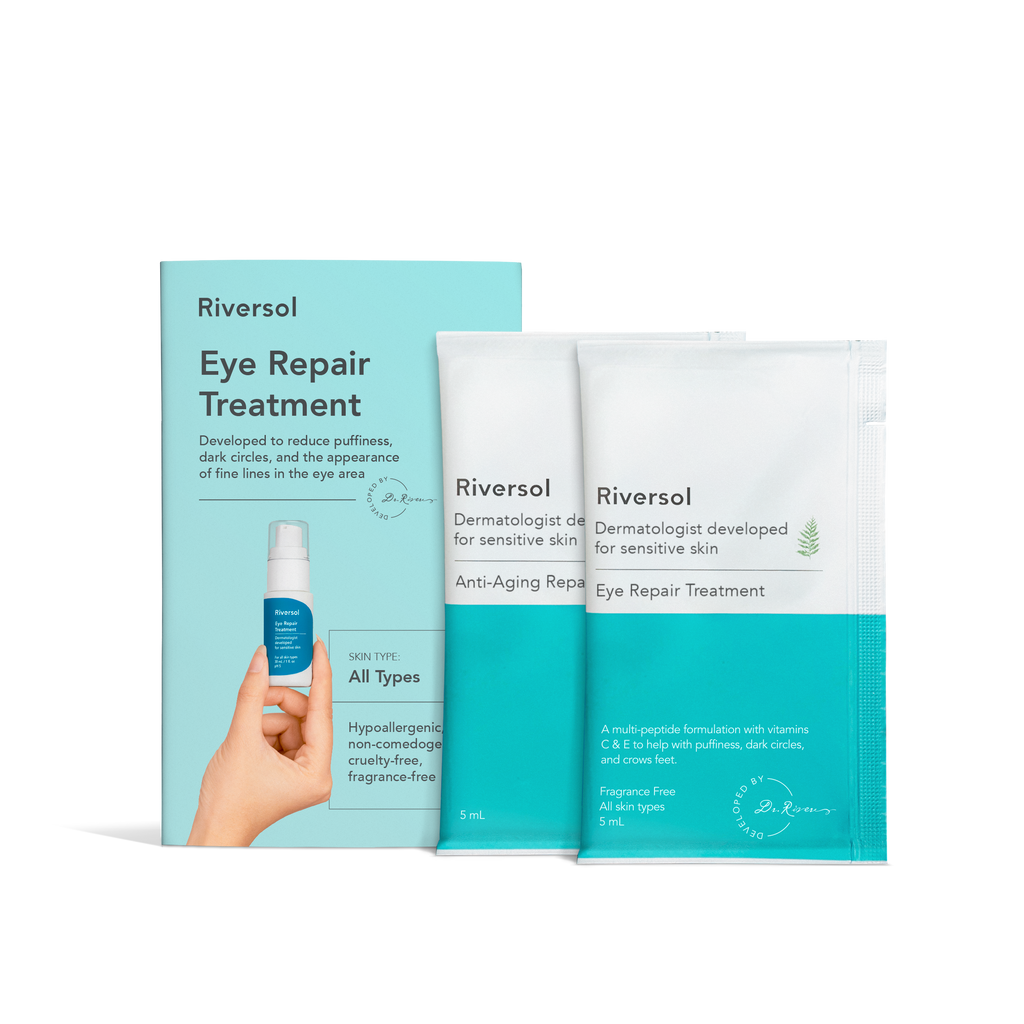 Eye Repair Treatment Premium Sample
Eye Repair Treatment Premium Sample
Dermatologist developed eye treatment to reduce puffiness, dark circles, and the appearance of fine lines in the eye area. Paired with our bestselling Anti-Aging Reparative Serum.
Unfortunately, we're not able to ship samples outside of Canada and the US right now. Please shop our full collection here.
Free Sample! This is a one-time order, not a subscription
$5 shipping in Canada, $7 shipping in US

Product Overview
Reduce the Look of Puffiness, Bags, and Crow's Feet
A blend of antioxidants and peptides help to reduce the appearance of dark circles and puffiness. The hydrating formulation supports collagen formation to nourish and brighten eye-area skin.
Reduces the appearance of dark circles and puffiness
What's Included?
This sample includes 5mL of our Eye Repair Treatment and 5mL of our Anti-Aging Reparative Serum
Not sure which products are right for you?
We can help! Our sensitive skin care specialists are on duty, we even have medical doctors on staff to help with your skin concerns over the phone. When you contact us, we'll make sure you get exactly what you need. 1.866.774.8377
Ingredients
Beta-Thujaplicin (Beta-T)
An antioxidant found in the extract of the Pacific red cedar tree that has been shown in peer-reviewed dermatological literature to have an impressive rejuvenating effect on the skin. Studies have shown Beta-T to reduce the appearance of discoloration and dark spots.
Matrixyl
An anti-aging powerhouse that keeps skin looking plump and youthful.
Haloxyl
An innovative complex that reinforces firmness and tone in the eye area and helps dramatically reduce the appearance of under eye dark circles.
Full Ingredients
Eye Repair Treatment
Aqua, Caprylic/Capric Triglyceride, Propylene Glycol, Butyrospermum Parkii (Shea Butter), Cetearyl Alcohol, Polysorbate 60, Cyclopentasiloxane, Cyclotetrasiloxane, Dimethiconol, Glycerin, Butylene Glycol, Propylene Glycol Alginate, Hinokitiol (Beta-Thujaplicin), Palmitoyl Pentapeptide-4, Palmitoyl Tripeptide-1, Palmitoyl Tetrapeptide-7, Hesperidin Methyl Chalcone, Disodium Lauriminpropionate Tocopheryl Phosphates, N-Hydroxysuccinimide, Chrysin, Tocopheryl Acetate, Aminopropyl Ascorbyl Phosphate, Steareth-20, Carbomer, Polysorbate 20, Xanthan Gum, Phenoxyethanol, Caprylyl Glycol, Sodium Citrate, Sodium Hydroxide, Sorbic Acid, Tetrasodium EDTA, Sorbic Acid, Citric Acid
Anti-Aging Reparative Serum
Aqua, Propylene Glycol, Hinokitiol (Beta-Thujaplicin), Propylene Glycol Alginate, Disodium Lauriminodipropionate Tocopheryl Phosphates, Aminopropyl Ascorbyl Phosphate, PVM/MA Decadiene Cross Polymer, Xanthan Gum, Tetrasodium EDTA, Phenoxyethanol, Caprylyl Glycol, Specially Denatured Alcohol, Sodium Citrate, Sodium Hydroxide, Sorbic Acid, Benzophenone-4, Citric Acid
Shipping and Returns
Returns
We offer a full, money back guarantee on all of our products. If you are not satisfied with any part of your Riversol experience within 60 days of purchasing, please give us a call or send us an email. We will arrange a full refund of your purchase value. All refunds must be made on the same payment method used to make the original purchase.
After the refund is approved a credit will automatically be applied to your original method of payment. This can take a few days to process, depending on your method of payment.
Shipping
Your products usually ship within 24 hours after placing your order. If your order falls on a weekend, it will be shipped on the following Monday. In Canada we ship with Xpresspost and Priority, and your rates will be calculated at checkout. You get free shipping on orders over $69 CAD.
Reviews
The Best
I say the best eye cream, is because I saw dramatic change to my under eye area, and I have tried many, I have been using Riversol products for many years, I started with the free sample kit, and from that day on I never looked back. I get many compliments on my skin and at 67 years old, no fillers no nothing, it's only Riversol for me…
No obvious results
Unfortunately does not seem to reduce puffiness for me, which was what I was hoping for. This product also never fully absorbs into my skin, even only using a tiny amount, and leaves a sticky residue so I couldn't use it in the morning. It might depend on your skin. I really like some of the other Riversol products, especially the serums, but the creams don't seem to work for me.
Results are forthcoming
I'm optimistic about the results from using the eye repair cream. I began seeing less puffiness after about a week...I noticed a bit of redness after applying the cream that lasted awhile but it finally disappeared and my eyes returned to normal.