"Sensitive skin" is a common term that is often used by cosmetic companies to target women whose skin is easily irritated by typical makeup formulations. However, sensitive skin is actually a clinical condition—and the better you understand skin sensitivity, the better you will be able to prevent and manage the symptoms .
Sensitive skin is characterized by a variety of unpleasant sensations. You may experience burning, pain, severe itching called pruritis, or even a tickling sensation. In addition, you may occasionally experience redness, which generally occurs in response to factors such as cold, heat, water, wind, and products that contact the skin, such as soap, cleaning products, cosmetics, and skin care products.
If you suffer from sensitive skin, you are not alone: about 60% of women and 40% of men report having this problem, and the number individuals affected by skin sensitivity is growing. While we usually think of sensitive skin as affecting the face, other areas of the body can also be affected, especially the hands. Due to physical discomfort—or, for some people, visible symptoms—skin sensitivity can have a real impact on quality of life. Fortunately, the uncomfortable sensations that accompany sensitive skin can be reduced relatively quickly with the appropriate care.
WHAT CAUSES SENSITIVE SKIN
Research has not yet revealed the exact causes of sensitive skin, although immunity and allergies do not appear to be responsible for this condition. Two possible causes of sensitive skin that are currently being explored are inflammation and the density and function of certain nerve fibers.
Sensitive skin can occur in individuals with otherwise normal skin, as well as those who have skin conditions such as acne, rosacea, eczema, perioral dermatitis and psoriasis. Skin sensitivity occurs more often during the summer, suggesting the involvement of UV radiation, especially given that people with fair skin report worse symptoms than those with darker skin. It also appears to be associated with dry skin and a person's tendency to blush.
 We know more about the triggers that worsen symptoms. Your sensitive skin may be affected by environmental factors such as temperature, low humidity, wind, and air pollution, as well as lifestyle factors like diet, the use of cosmetics, and consumption of alcoholic beverages. Physiological factors have also been reported to influence skin sensitivity, namely stress and the menstrual cycle.
HOW TO CARE FOR SENSITIVE SKIN
Because the cause of skin sensitivity is not entirely understood, current treatments focus on alleviating symptoms while researchers continue to investigate the mechanisms behind sensitive skin. The good news is that with a few simple changes, you can achieve relief from the unpleasant symptoms associated with sensitive skin.
Dr. Rivers has spent over 30 years working with patients with sensitive skin.  Several controlled studies have been conducted at his clinical practice in Vancouver, BC using Riversol products.  (Read more about these studies below) In these studies, healthy volunteers with sensitive skin benefited from using products with a combination of moisturizing and calming ingredients. Similarly, in a Japanese study of patients with mild acne and sensitive skin, mild skin cleansers in concert with intensive moisturizers (an approach known as "combination skin care") successfully treated the acne and did not further irritate their skin. 
Of course, you have probably seen a variety of cosmetics advertised as non-irritating, and often as having beneficial properties specifically targeting sensitive skin. To achieve the greatest benefit from your regimen for the care of sensitive skin, follow these steps:
1) First, make a fresh start. Discontinue using your current products and begin using only products that have been developed specifically for sensitive skin.
2) Examine the ingredient list for any topical medications that you use, and stop using any that include drying or irritating ingredients, such as benzoyl peroxide (an acne medication) and tretinoin, which is used to treat acne and to minimize wrinkles.  
3) Avoid the use of regular bar soap and harsh cleansers. Read more about the best cleansers for sensitive skin below.
4)  Your skin care products should be free of irritants, colorants and fragrances.  They should also be composed of high quality moistuizers and contain a variety of anti-inflammatory and antioxidant ingredients.
5) All skincare products should be slightly acidic to protect and resore the skins natural moisture barier.  For more information on acidic skin care read our guide here. 
6) Avoid using topical steroids.
7) Identify your personal triggers for skin irritation and avoid them as much as possible.  The most commonly reported triggers include factors such as temperature, low humidity, wind, and air pollution, as well as lifestyle factors like diet, the use of cosmetics, and consumption of alcoholic beverages. Physiological factors have also been reported to influence skin sensitivity, namely stress and the menstrual cycle.
8) Minimize the use of cosmetics and make up.  Read more about this below.  
It can be a challenge to manage skin sensitivity. Most of the treatments available rely on topical products that contain mild ingredients, but not all products created for sensitive skin are equal. At a minimum, the skin care products you use should not introduce irritation to your skin.  Once you find the best products for your skin concerns they will make a noticeable difference in your day-to-day comfort.
A SENSITIVE SKIN CLINICAL CASE STUDY
At Dr. Rivers clinical practice in Vancouver, BC we conducted controlled clinical case studies on facial redness and inflammation using Riversol on sensitive skin.
The Test: Select patients were invited to try the Riversol Redness Control Trio for 3 months
The Conditions: The patients were not permitted to use any other skin therapies during the test.  This meant no cosmetic procedures, no skin supplements, no other topical products, no laser treatments and no device based treatments for the duration of the trial.
The Results: Patients saw a significant reduction in irritation and inflammation along with an improvement in skin tone and texture. See the results for yourself with our free 15 day sample kit.  Within the first 15 days you should start to benefit from reduced discomfort, decreased redness and optimal hydration.  
BEFORE RIVERSOL APPLICATION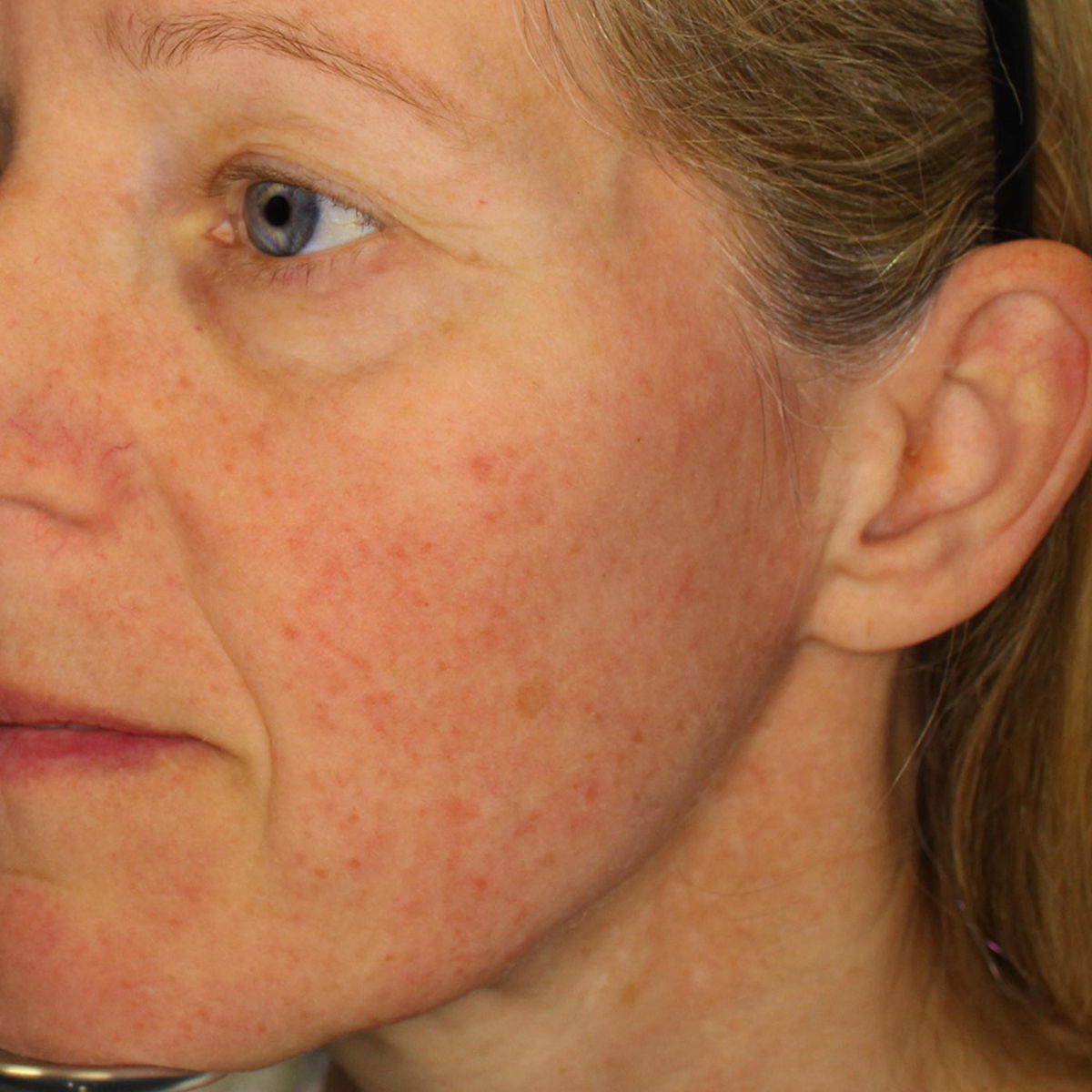 AFTER RIVERSOL APPLICATION (12 WEEKS)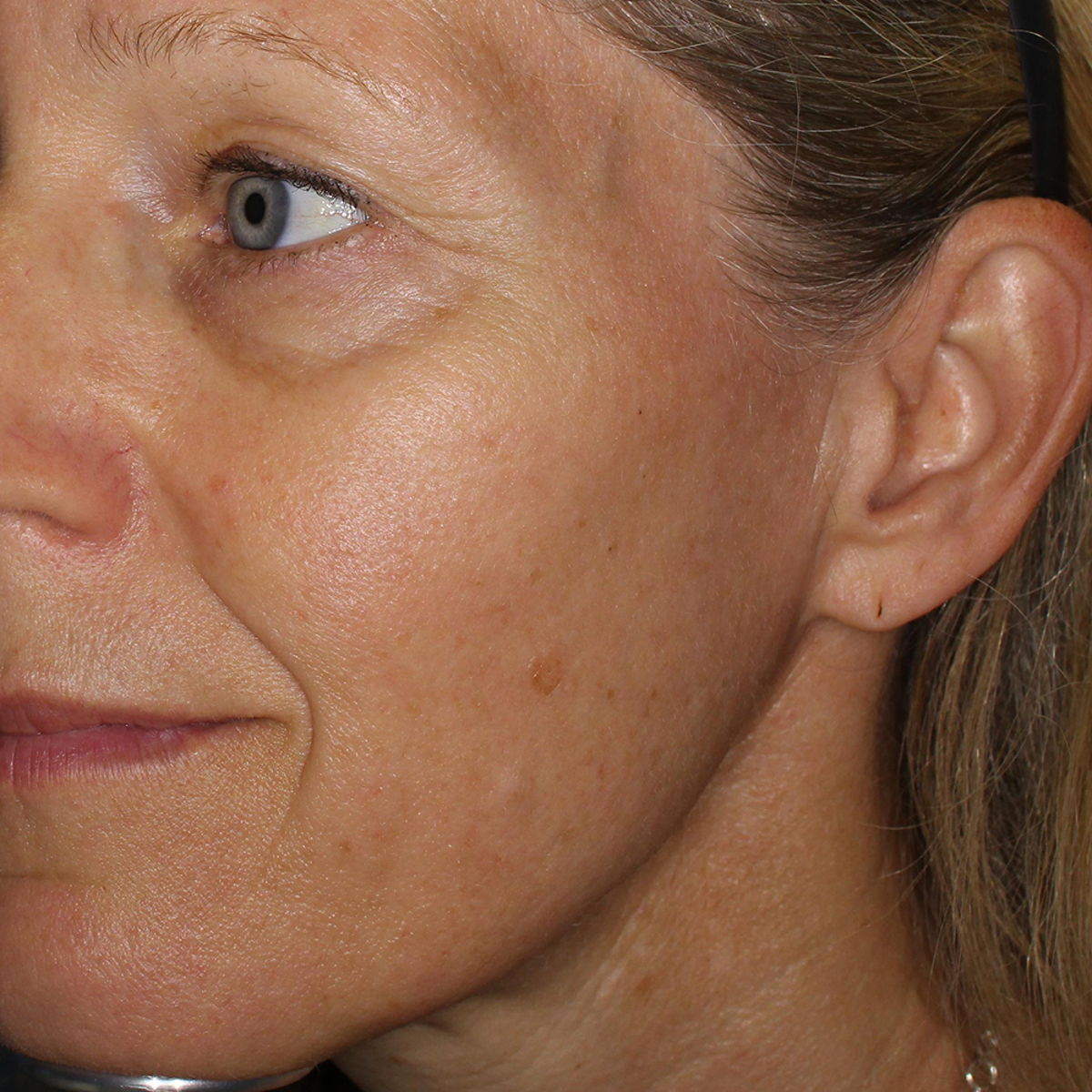 Includes a 15-day supply of Riversol cleanser, serum and moisturizer. Choose one of four customized sample kits.
CHOOSING THE BEST FACE WASH FOR SENSITIVE SKIN
When managing sensitive skin, one of the biggest mistakes people make is choosing the wrong general or facial cleanser. Regular bar soap strips the skin of its natural protective barrier, making it too harsh for the face and likely to irritate your skin. Medicated soaps containing benzoyl peroxide, sulfur, or resorcinol antibacterials do an excellent job of eradicating harmful pathogens like staphylococci and gram-negative bacteria. However, these soaps have a pH of 9–10, which is extremely alkaline compared to the ideal pH of the outer epidermis. Not surprisingly, they can cause skin irritation.
It is unfortunate that many people believe that irritated or acne-prone skin stems from poor hygiene, and they overuse these harsh soaps as a result. This simply exacerbates their condition, and a vicious cycle of overcleansing and breakouts ensues.
Dr. Rivers developed two cleansers specifically for sensitive skin. They will both help to gently clean the skin without causing irritation or disturbing the skin's natural moisture barrier. Riversol offers a gel cleanser for normal to oily skin and a cream cleanser for normal to dry skin.
HYDRATING CREAM CLEANSER -

FOR DRY SKIN
Recommended for those whose skin needs extra moisture, or suffer from skin prone to inflammation & redness. This cleanser will not leave your skin reactive, over-dry or irritated. For all ages, all ethnicities. View product details here >
Removes  impurities to improve radiance.
Rehydrates by repairing the skin's moisture barrier
Relieves irritation and inflammation in sensitive skin.
REFRESHING GEL CLEANSER -

FOR NORMAL-OILY SKIN
Recommended for normal to oily or combination skin types. It works best for people who prefer a light, hypoallergenic cleanser that leaves the skin feeling refreshed and clean. For all ages, all ethnicities.View product details here >
Removes  impurities to improve radiance.
Unclogs pores to stop blemishes and break-outs
Relieves irritation and inflammation in sensitive skin.
CHOOSING THE BEST MOISTURIZER FOR SENSITIVE SKIN
Moisturizers are recognized as an effective tool for managing sensitive skin. Researchers suggest the inclusion of high quality moisturizers formulated with antioxidant and anti-inflammatory compounds. Preserving the skin's moisture not only alleviates troublesome symptoms, it improves the skin's barrier function.
Like Riversol's cleansers, our moisturizers are made specifically for sensitive skin, and Dr. Rivers followed the same principles during their development. The result is two different moisturizers for our customers: a lightweight lotion for normal to oily younger skin that is often prone to acne and blemishes and a heavier moisturizing cream for normal to dry skin.
All of the moisturizers are made with 3 powerful antioxidant and anti-inflammatory compounds: Beta-T an extract from the pacific red cedar along with phosphate form vitamins C and E.
LIGHTWEIGHT MOISTURIZING LOTION

NORMAL-OILY SKIN
Formulated specifically for normal to oily and blemish prone skin. Suitable for sensitive, hyper-sensitive and intolerant (skin that reacts easily to products by breaking out in pimples) skin. View product details here >
Lightweight, gentle hydration to reduce shine
Improves skin radiance and texture
Relieves irritation and inflammation in sensitive skin.
DAILY MOISTURIZING CREAM -

FOR DRY SKIN
Recommended daily hydration for individuals with dry skin. Specifically formualted to restore moisture balance in sensitive skin View product details here >
Instant, deep rehydration
Rehydrates by repairing the skin's moisture barrier
Reduces redness and flushing in sensitive skin.
OUR BEST MAKEUP TIPS FOR SENSITIVE SKIN
Ideally, those with sensitive skin should minimize their use of cosmetics. However, many people feel strongly that makeup improves their appearance, and they will not want to discontinue its use. If you suffer from skin sensitivity but wish to use cosmetics, consider the following tips on choosing and applying these products. To minimize the effects of cosmetic products on your sensitive skin:
1) Choose cosmetics that are easily removed by water.
2) Use fresh makeup. When makeup expires, some of the molecules inside decay leaving a byproduct which can cause skin irritation or even a reaction.
3) Keep your makeup tools clean. Makeup and makeup tools that come in contact with your face are exposed to bacteria that can cause irritation.
4) Use as few products as possible and only use products made for sensitive skin. Skincare formulations are very complex often including a wide variety of important ingredients from active molecules to correct signs of aging to preservatives and stabilizers that keep your cream safe for long periods of time. If you have sensitive skin it is important to keep the number of products to a minimum thereby exposing your skin to as few potential irritants as possible. Products developed for sensitive skin undertake a more thorough ingredient screening process to rule out any potential irritants.
5) Avoid products containing dyes, fragrances, and formaldehyde-releasing agents. These chemicals are often irritating and can trigger flare-ups.
6) Before applying foundation, Use a mild chemical exfoliator as physical exfoliants like scrubs can cause irritation (see our glycolic peel below). Then use a clean foundation brush to mix the foundation into your moisturizer in a clean bowl or on a clean surface. Using a foundation brush is not only more sanitary than a makeup sponge, you will also spread the foundation more evenly and waste less of it.
7) For sensitive skin, makeup artists often prefer a powder foundation, many are free of irritating fragrances and dyes. Although some people voice concerns that these will look chalky, more often than not, they actually make the skin really glow. Plus, they are applied with a brush, so you won't tug at sensitive skin. The trick is to use a light hand: Dip a powder brush in mineral foundation, shake off the excess and sweep it over the face using circular motions. Switch to a concealer brush and blend the same product under the eyes and over any blemishes.  
8) Before applying eye makeup use some of the foundation-moisturizer mixture on your eyelids, or use an eyeshadow primer that works for you, so that your eye makeup does not move throughout the day. 
9) Don't forget about storage! To ensure your cosmetics are free of irritating bacteria store them in a cool dry place, which ironically rules out the bathroom. Never leave them uncovered or exposed to the air, and make sure to clean your brushes each time you use them.
EXFOLIATING GLYCOLIC PEEL -

FOR ALL SKIN TYPES
Developed to instantyly boost radiance in sensitive skin. The non-gritty formulation that does not irritate the skin like typical, physical or chemical exfoliators. This exfoliant has the ability to buff away dead cells with no irritation and is ideal for people with very sensitive skin. View product details here >
Promotes healthy cell and collagen regrowth
Instantly brightens and restores radiance.
Relieves irritation and inflammation in sensitive skin.